I recently had the chance to work with
Kranich's Jewelry
, and if you know me, you know that bling bling (otherwise known as jewelry) is my weakness! And, I know that many of Mommy Rantings' readers love some bling bling, too, but there's a big difference between our favorite Lia Sophia and Park Lane (to name a couple) and Kranich's jewelry!
As a matter of fact, I'll just say it. There's a big difference between "costume jewelry" and Kranich's jewelry - which is THE REAL DEAL.
I say this, because I have spent hundreds, and maybe thousands, on jewelry from Lia Sophia and Park Lane, so I know the pricing points and what you get for your money, and I was shocked to find out that for the same amount I would pay for a necklace or belt from Lia Sophia or Park Lane, I could buy a *real* diamond necklace from Kranich's!
Taken Aback
I am going to be absolutely honest, as usual, and reveal my true reactions and thoughts...
Here is what I saw in the picture in the brochure and what I expected:
Actual photo taken close-up with my smartphone
When I first received the diamond necklace in the mail, though, I was a bit taken aback. It was extremely dainty and, although it resembled the pictures that I saw of the diamond necklace, the diamonds were difficult to see and I initially felt like if I had purchased the necklace, I would have been let down when I received it. Here is the actual size:
Actual picture of necklace around my neck
However
, I took the necklace to a local jeweler who took a close look at it with his handy-dandy magnifying tools and he said that the necklace was definitely worth every bit of the retail value that Kranich's sold it for on their website, if not MORE. It was 14K white gold and the diamonds were not only real, they were also quality diamonds.
Then, I took it took the Indian reservation near our home, where they have their own jewelry store and appraisers. They also told me that the necklace would retail at, or above, the price tag that Kranich's had on it.
I also took the diamond necklace to a local pawn shop for a third opinion. Here, the man explained to me that the price of gold had recently dropped and that a pawn shop would only offer about 1/5 of the value of the necklace, due to its weight. However, I wasn't interested in selling the necklace, I simply wanted to know what others said about the value. The owner of the pawn shop let me know that the pawn value of the necklace was an insult, and that the piece of jewelry was worth every bit, if not more, of what Kranich's put on it for a retail price on their website. (Little did he know, I wasn't interested in selling it!)
So, I digress. I will admit that my initial reaction was wrong. And, it was proven wrong by three knowledgeable sources!
More from Kranich's - Diamond Engagement
After being married for over 15 years, I highly doubt that I will ever have to be worried about another diamond engagement ring, like the
Verragio Engagement
rings. However, I know many of you out there will be planning to jump into the ultimate commitment, so I want to show you how beautiful the nuggets on your ring finger can be...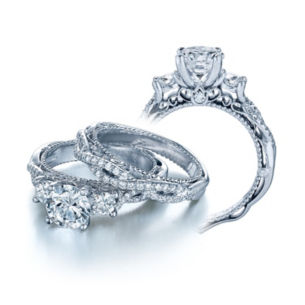 If you have thinner, longer fingers, like me, you might like the
Princess Cut Diamond Rings
. If my husband were to ever get me another ring because I deserve it, it would definitely be a princess cut ring and it would look quite similar to this: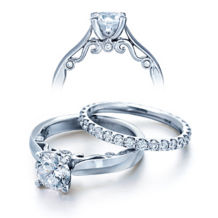 Breathtaking, huh?
A Little Background on Kranich's
Kranich's has been around since 1903, and I think that speaks highly about a company. They are family-owned, which always touches my heart, and the person I've dealt with has been nothing but wonderful, helpful, courteous and patient!
Show 'em Some Love!
If you love jewelry, go ahead and give
Kranich's the thumbs up on Facebook
(in case you don't know, that means "Like" them!) and take a peek at what they have to offer. If you're a Tweet fanatic, be sure to follow
Kranich's on Twitter
. And, pay close attention in he future...you never know, they might just decide to sponsor a giveaway on Mommy Rantings, but in the meantime, let them know that they have our support!