It never ceases to amaze me how excited little people get when a box comes in the mail...and it's adorable to see the reactions when something for
them
is in the box! This time, it was
Evenflo's
Big Kid Amp. The bright red color and sleek appearance had my boys ready to give it a whirl immediately, right in the middle of the living room floor!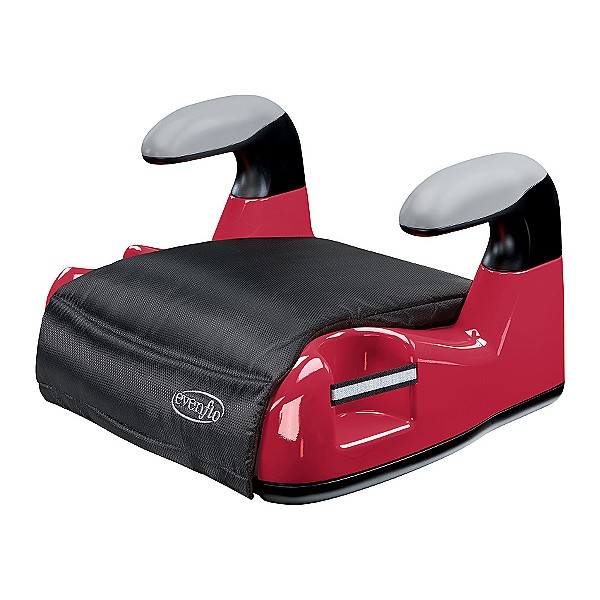 A sleek red one for any child!
I'm not going to bore you with the importance of keeping children in safety seats in vehicles, statistics on how many children are hurt each year from not being properly harnessed, or why older children still need to be in a booster seat while they're in the car...because you already know the answers! So, I'm going to skip right to the chase and tell you the reasons I love the Big Kid Amp.
Seat Comfort
The first thing I checked was how comfy the padding felt, because when you're riding around with kids in tow, if they're uncomfortable, you can forget about a smooth ride. There is plenty of soft cushion for your "big kid" on the seat of the Big Kid Amp and the padding is also removable for easy cleaning.
Cool blue for your boy!


Armrests
The armrests, although many are hard and not-so-comfy, are referred to as "Softtouch" arm rests, and are sturdy, yet foamy feeling for children who like to hang on while you're driving.
Cup Holders
One issue that has always been a problem with car seats is the cup holders - they usually aren't big enough for many of the sippy cups that we bring with us! I immediately noticed the elastic-y, flexible, grippy cup holders that can accommodate any size sippy cup. I love that!
A hot pink one for your girl!
Installation
Installation is fairly simple. The Big Kid Amp comes equipped with the tandem belt and clip, and the seat is supposed to be used with a regular car seat belt.
Who Can Use It?
The Big Kid Amp is made for children who are 40-110lbs and up to 57 inches.
Where Can You Find A Big Kid Amp?
You're going to find varying prices for the Big Kid Amp, depending on where you look and which color you like, but I was able to find it at
Sears for only $24.99
. Keep looking around - you may find a great deal on this sleek, sassy and super-comfy child safety seat for your "big kid".
Evenflo's Big Kid Amp gets a 5 stars from Mommy Rantings for comfort and safety.
I received a product for the purpose of this review. There was no monetary compensation for this post.