The fall season doesn't just mean that your family will be able to start enjoying the much cooler weather, it also means that you can start enjoying a different kind of outdoor fun from the beach activities of the summer. Although there are a lot of different activities for you to enjoy as a family during the fall, now would be the best time to do something unique for a change, like visiting a pumpkin patch and flying a kite.
Pumpkin patches
in themselves are known to be a fall tradition since they open in October and visiting one generally consists of a hayride to the field where you can then choose pumpkins for the family to take home. Some pumpkin patches even have special family activities built into them, like cornfield mazes, petting zoos and haunted houses that children of every age will love. If you go at night, you can even bring hot chocolate, graham crackers and marshmallows to make s'mores with.
Of course, the best part about visiting a pumpkin patch is taking several pumpkins home and carving silly and spooky designs into the ones that you picked out. You can even roast the seeds if you want to. How great is that?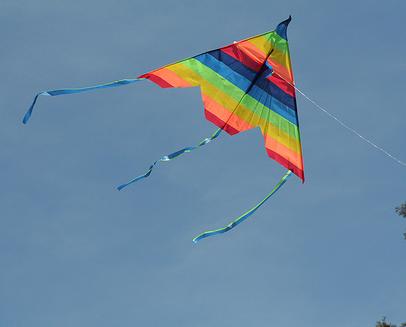 Flying a kite
would be another fun and unique fall activity for your family to enjoy. If you have younger children, though, make sure you keep things simple by flying kites with single lines. In a nutshell, single-line kites are attached to single strings that will allow them to fly at medium speeds.
These kites are usually the easiest ones to fly out of the many different kinds of kites out there, but they still come in various shapes and sizes, including diamonds, boxes, parafoils and deltas. Your children can even choose more special designs for their kites if they want, such as birds, rainbows (like the one above), sharks and butterflies that will brighten up the skies.
Of course, if your children have already mastered the single-line kites, you can start moving on to bigger and fancier kites. These highly advanced kites are stronger, so they can fly at much faster speeds and withstand several crashes. Some of these kites even have up to four lines, so they can do special tricks, like loops and dives, in the sky.
Fortunately, everybody can learn how to fly a kite, so all you really need is a wide and open space, some wind and a kite for everyone, and you can start having some family fall fun outdoors.
Naturally, these are just a couple of the many other fun activities you can do as a family in the fall. However, these activities are sure to make a mark in your children's memories, thus turning them into something that they will always remember.
Michelle Hinckley is a writer that focuses on health and family education. She also enjoys covering topics on an expat community blog that provides internet phone card and swiss calling cards for international travelers. Take an additional 10% off with coupon code "acc10".
Thank you so much for your contribution to Mommy Rantings, Michelle! Readers: what do you do in the fall with your kids?